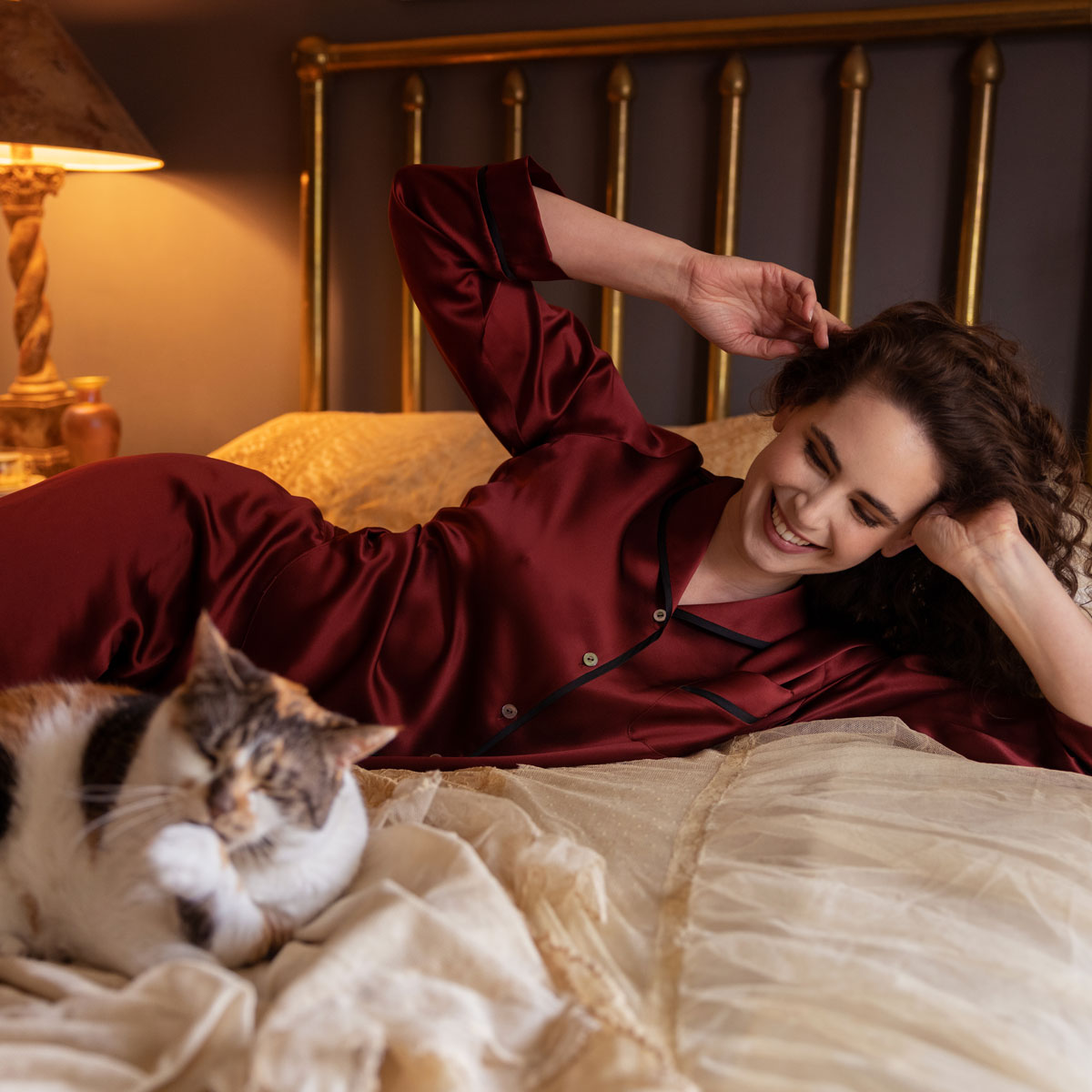 FAQs About Our Silk Select Rewards Program
How do I join?
Become a Christine Lingerie rewards member by becoming a registered client on the site. We reward your loyalty with one point for every dollar you spend on our site, and the points you accumulate never expire. As long as you have a valid customer account, you will keep your rewards points and the associated VIP level. 
How do I reach a VIP level?
Once you reach 2,000 points you will automatically become a VIP and start seeing rewards certificates and other VIP only offers in your inbox.
Can I get credit for past purchases?
Yes!
Existing registered clients will automatically be signed up for our rewards program and existing clients who have made eligible purchases in the past 2 years will be automatically added to the VIP level matching their spending history. At launch, all existing clients with a 2-year purchase history equal to at least 2,000 points will be given a one-time bonus award as a special thank-you.
How do I collect points?
Start collecting points with every purchase. You'll earn 1 point for every dollar spent before taxes and any other fees, which will accumulate in your account profile until you reach specified rewards levels.
When you reach a rewards level you will automatically be sent a rewards certificate that you can use on a future purchase. These certificates will never expire, and become even more valuable as you unlock new VIP levels.
Your lifetime spend level will determine your on-going rewards benefits. New offers may be added, or program changes made, at any time.
Are points collected on every item?
No.
Some items are not eligible for points collection.
For example, currently we exclude gift wrap, gift cards, and some other select items from accumulating points in the points program.
The items excluded from the program are subject to change at any time and may not be limited to the items listed here.
Can I collect points on sale items?
Yes!
Unless otherwise specified, sale items are included in the points accumulation totals.
Do points expire?
No!
Our rewards program relies on levels, and specific points are required to reach a level or  be issues a reward. As a result, our points don't expire.
However, special points bonuses given to VIP members may expire. See the terms of your offers for details.
Do rewards discounts expire?
It depends…
Some of our rewards never expire, like the rewards certificates issued when you first reach a new level.
Others, like the birthday discount reward, anniversary rewards, social engagement rewards, review rewards, and other special VIP rewards do expire.
Please pay attention to the terms outlined in each individual offer for specifics.
How do I redeem points?
The points will be redeemable from your account or in your cart when you are logged in. All points are non-transferrable.
What if I return or exchange an item bought with a reward?
Returns on purchases will result in points you earned on the purchase being deducted from your balance. Exchanging merchandise for an item of lesser value will also result in the difference in points being deducted from your balance. If you return items purchased with a rewards certificate or discount the reward cannot be reissued.
What happens to points on returned or refunded items?
If an item is returned for a refund, any points accumulated in making the original purchase will be deducted from your points balance.
If you exchange an item for an item of lesser value, any difference in dollars will be deducted from your points balance.
If you exchange an item for an item of equal value, you will not lose or gain any points.
If you exchange an item for an item of greater value, the difference in dollars (less taxes and fees) will be added to your points balance.
What are the program terms or limitations?
Rewards certificates are for one time use only and cannot be combined with other offers unless otherwise specified.
For conjunctional use rewards certificates the minimum spend will increase when combined. The maximum discount on any rewards order will be determined by VIP level with the highest tier discount (VIP Elite) capping out at 25%.
You must be logged in to your account to use your birthday reward discount. Birthday reward discounts can not be combined with any other discount offers or rewards certificates. Sale items, gift cards, and gift wrap are excluded from Birthday reward discounts. In order to qualify for this reward you may need to update your profile to include your birthdate.
Some items may be excluded from rewards certificates and discounts.
The default currency for all dollar-value rewards are Canadian dollars unless the reward certificate specifies otherwise.
We reserve the right to change or modify this program at any time.
How can I claim the SMS bonus points?
It's super easy! Just fill out this form...