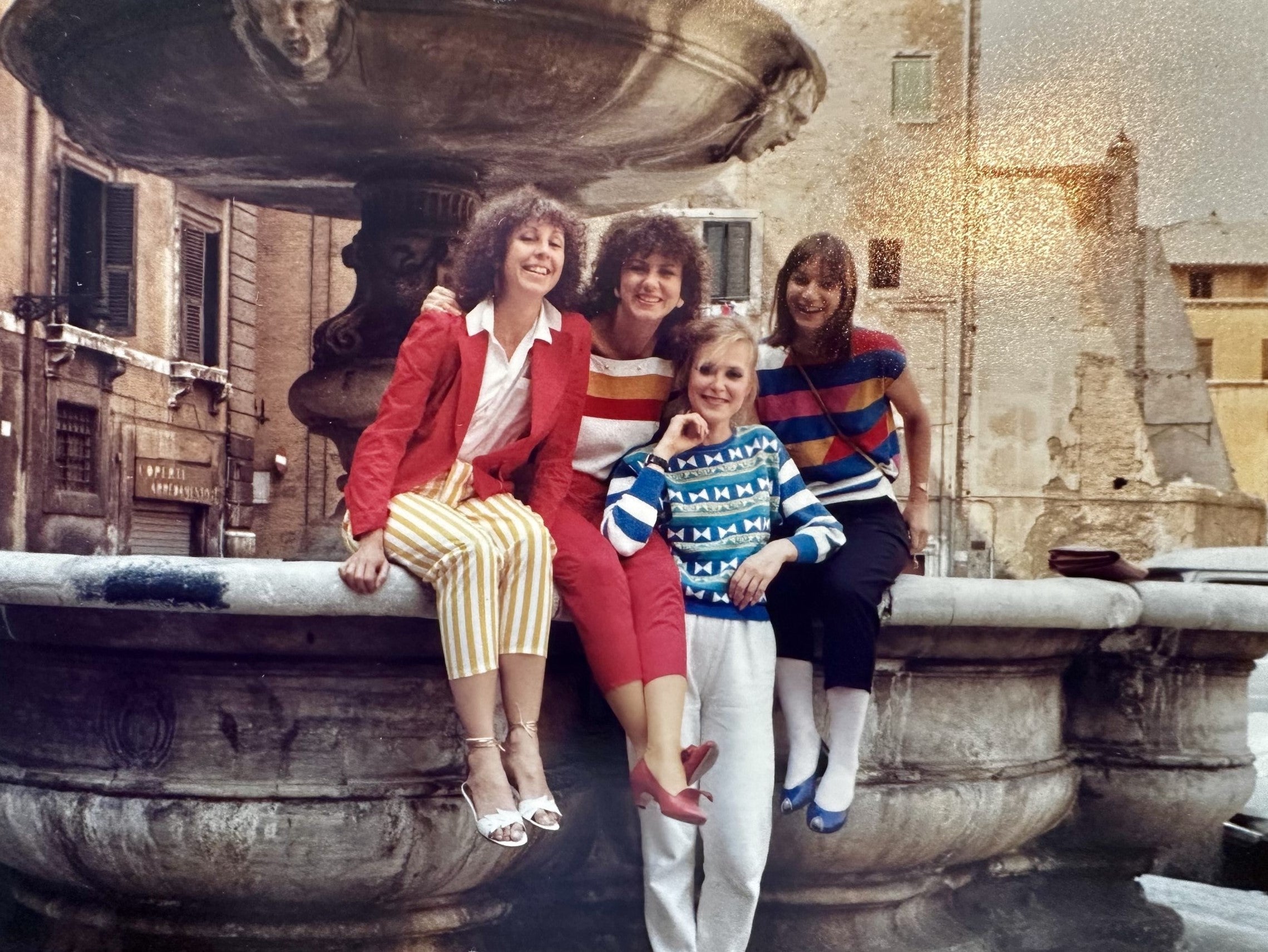 Christine 50: A Trip To Italy
I found heaps of antique lace and marveled at the prices they were asking, and I bought a bolt of very fine lace that I would later use in my own wedding dress.
Christine 50: A Trip To Italy
 In 1981 I decided to take my first long holiday since starting my business and went to Italy. I travelled with a friend and stayed in an ancient building on the edge of the Piazza Navona, in Rome. I remember the stones steps going up to our apartment were worn deeply away from the passage of time, countless footsteps from endless bodies traipsing up these steps. The Italian families would gather every evening in the piazza around the fountain and enjoy each other's company, it was a real sense of community. It seemed like a lovely pace of life.
A friend of mine, Zonda Nellis (another local designer!), was staying close by so we would go in search of markets and shopping areas to get inspired and spend money. I found heaps of antique lace and marveled at the prices they were asking. I had similar pieces that I was using in my garments which were priced considerably lower in North America. I did find a bolt of very fine lace that I would later use in my own wedding dress. We ate lots of gelato, sipped great coffees, feasted on pasta, and drank good wine.
There were four of us girls on the trip; we took the train up to Sienna, Florence, and Venice. In Sienna we climbed the bell tower and were blown away with the view, but also the wind! In Florence we visited as many galleries as we could, on our journeys we met a shoe designer who pointed us in the direction of some sample sales. I came home with pink go-go boots, red patent slippers with tassels as well as about 10 other pairs of shoes! We also came upon a sweater wholesaler and bought matching pink and red sweaters. Us girls were young, crazy, and had lots of fun.
In Venice I saw a poster for a lace show on nearby Burano Island. Burano is famous for a convent where the nuns made lace, the locals sit on their doorstep making lace to this day. The lace museum in the nunnery was fantastic with a collection far greater than the British Museum. There were also pieces that reminded me of my collection of antique laces at home. I was entranced by the history and magic entrenched in Burano. It was magical, bursting with colorful pastel painted buildings, canals with small boats, and flowers everywhere. I loved it, and I wanted to move there! I brought the poster from the show home and had my photographer, Howard Fry, do a copy of it.
Alongside all the treasures I acquired in Italy, I brought home a passion to use my antique lace again. I had been using new European lace for my lingerie, which allowed me to do larger production, but I wanted to use my antique lace and make one-of-a-kind pieces. I designed a long kimono with inset godets, bedecked in antique lace, ribbons, and rose buds. I felt like I was going back to my roots!
I called this piece the Whimsical Wrap, it became an iconic piece in my collection for many years to come. It was on the cover of a Nordstrom's catalogue, featured in the window displays of Saks, Bergdorf's, all the great department stores of the time. Henri Bendel in particular created a whole fantasy window inspired by the Whimsical Wrap! It was worn by many celebrities and collected by clients who were captivated by the design.
I left Italy and flew to Greece and spent a week lying in the sun with my good friend Frances who was on her honeymoon. Little did I know what was awaiting me at home!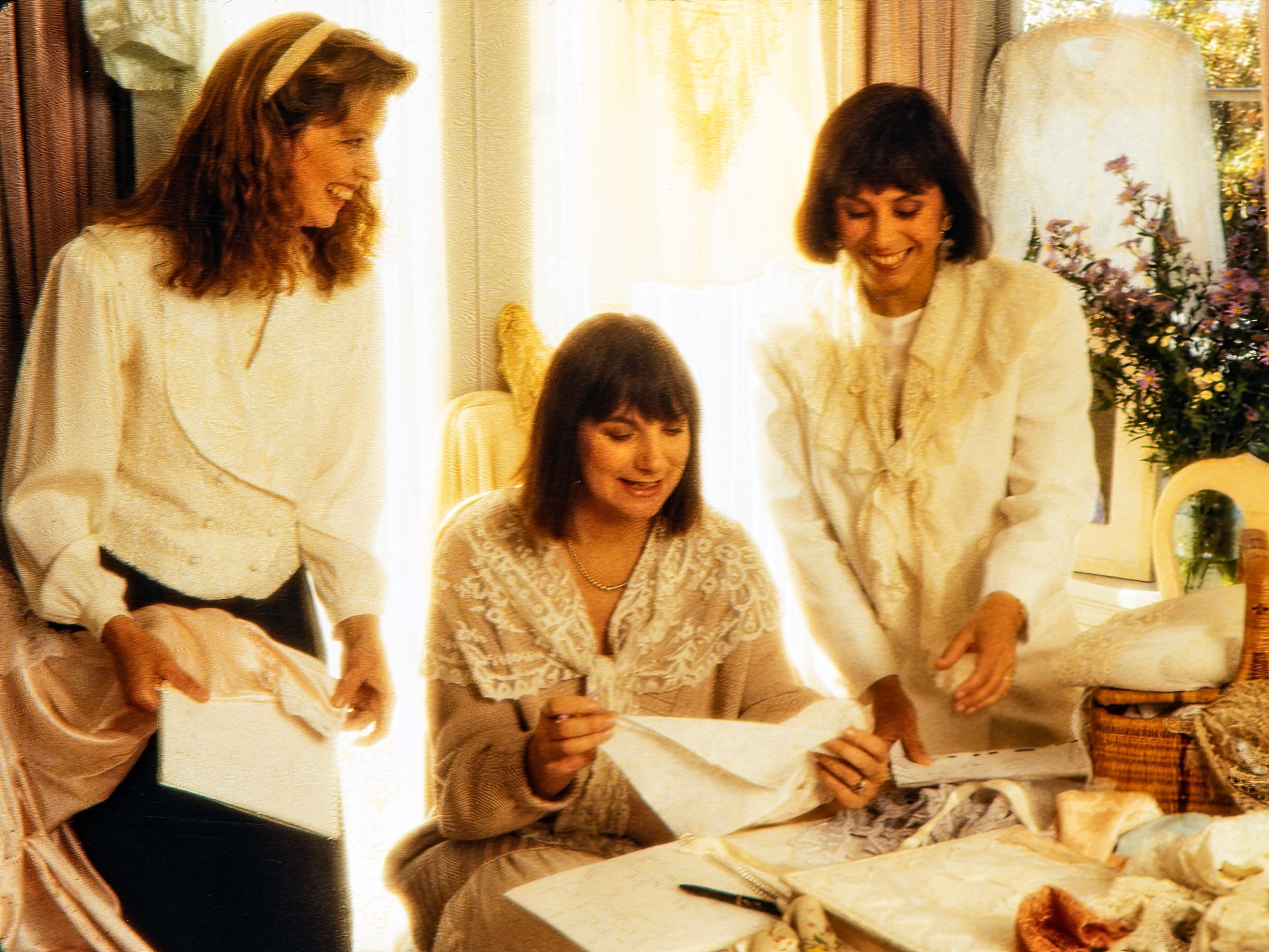 Christine 50: Some Great People
It was an exciting time in our little studio. We were doing custom work, wedding dresses and lace blouses as well as our lingerie collection. I remember one of the first dress I made when we were s...
READ MORE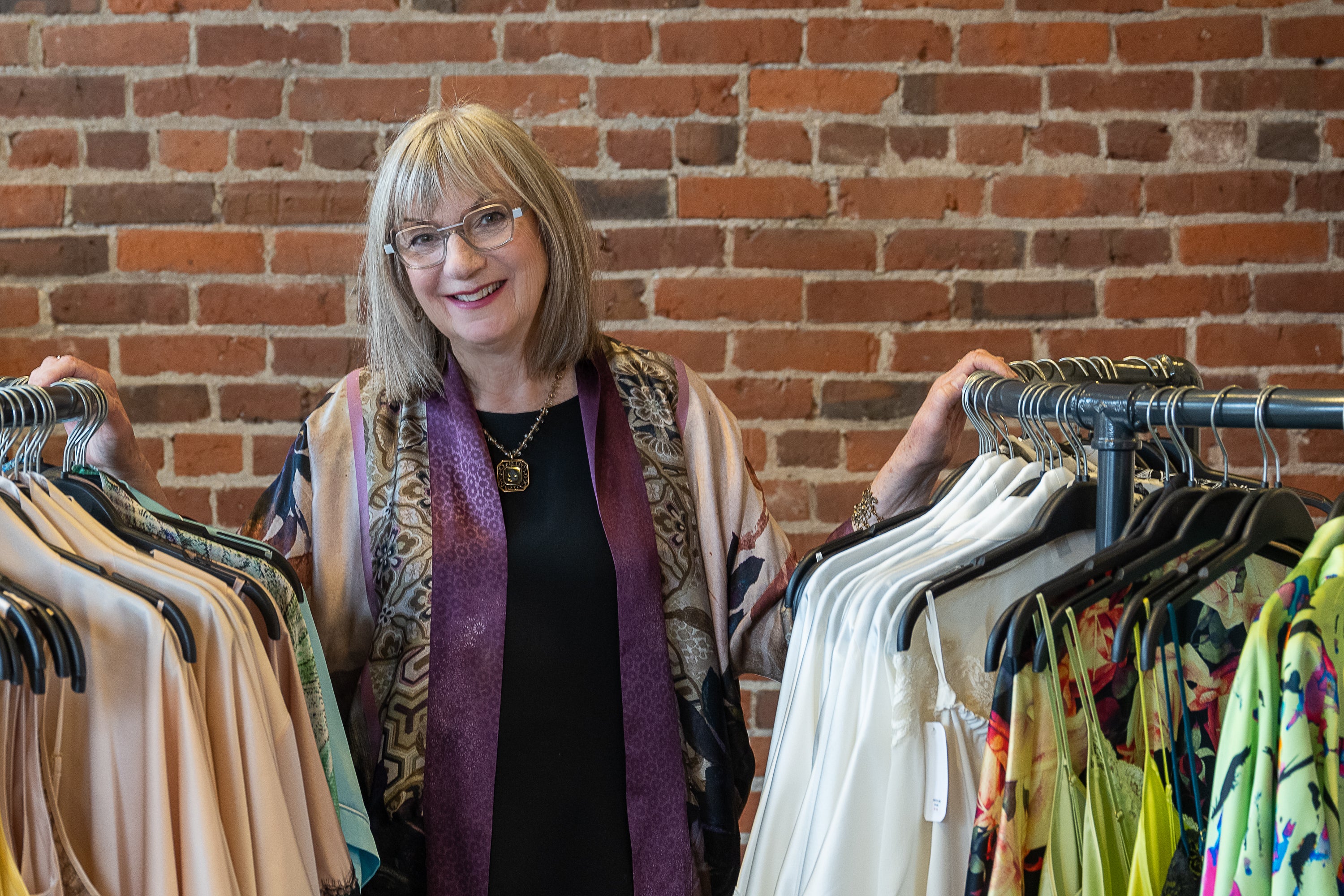 Meet The Magic Behind Christine Lingerie
Christine is a silk lingerie and loungewear brand proudly made in Vancouver, Canada. All of our exquisite pieces of the finest silks and lace are designed, handmade and sent out into the world by a...
READ MORE