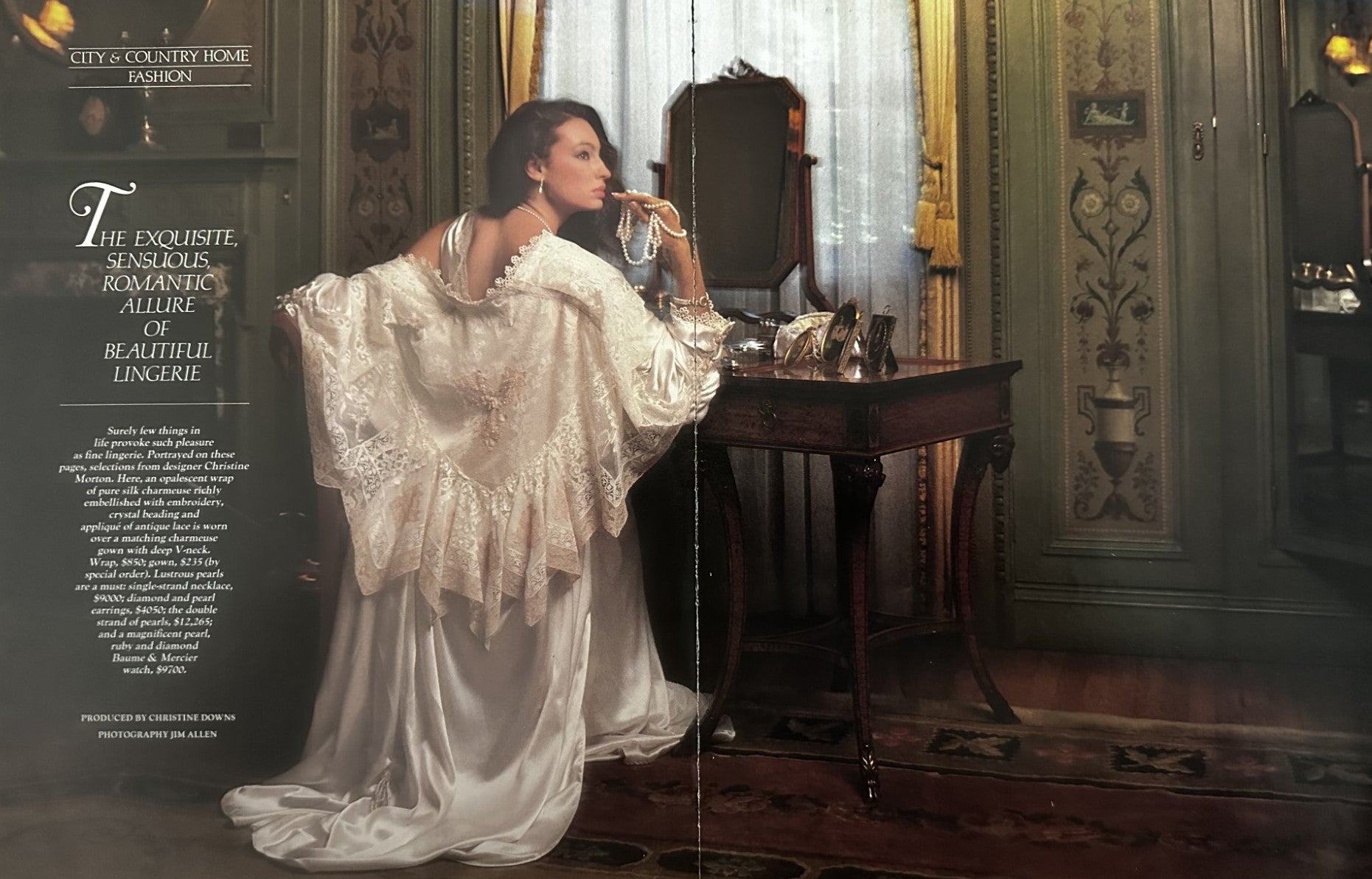 By 1985 I was getting some wonderful articles in magazines across the continent. The editorial shown here was in the November issue of City and Country Home, it was shot at the Parkwood mansion in Oshawa, Ontario.  Featured are the beautiful antique beaded Whimsical Wraps that I was becoming known for.
Alongside the Whimsical Wrap, a silk crepe de chine gown in pale wisteria with a matching robe and dripping with antique lace. An aubergine gown with lace godets trailing down each side, matching lace on the cuffs of the wrap. A soft pink teddy and kimono with Swiss embroidered lace and tiny silk rosebuds which we accented a lot of our garments with. Finally, a silk and linen double-dyed jacquard robe. My work fit perfectly into the ambience of the 1917 mansion.
With all of this new press my business was growing; I needed to move to a larger space. I rented in a building overlooking the water in West Vancouver.  It had high ceilings, huge windows, and lots of mirrors. Suddenly I had a huge space for my cutting table and sewing machines, even a separate shipping room for the orders flying out the door! My corner office was dreamy, I could look out to the ocean whenever I liked. David and I painted the walls a gorgeous, wilted rose pink and added ruched silk to the mouldings around the ceiling with large, matching, silk roses in each corner. My new space was a labour of love. However, halfway through our remodeling I found out I was pregnant and immediately stopped painting! Eventually, with the help of everybody involved with my business, we got it all finished and were so excited to move into this bright new space; AND to have our first child on the way.
By this time, I was going to New York about five times a year. There were so many lingerie markets that our stores went to, and we loved to be there to show our new collections. When we started wholesaling wedding dresses it added two more markets, so seven markets a year! I would also travel to Calgary, Edmonton, Winnipeg, Toronto and Montreal to see stores.  It was kind of crazy, and not sustainable for my time as a designer. I needed time to create! I decided to have Sylvie Vincent do some of the travelling, and in time she took over as my International Salesperson. Thank goodness! David and I proceeded to have three children throughout my thirties. Unfortunately I missed many Mothers' Day's and Halloweens due to the timing of those markets.
I look back on that period of my life and wonder how I ever did it. I believe we all had a shared vision for what Christine Lingerie could be. We wanted to build a business making beautiful garments of high quality that would be collectors' items and family heirlooms for years to come. The garments might have changed over the past 50 years, but the vision has not. After 50 years some of the same sewers are still making beautiful garments of extremely high quality! I couldn't have done it without the support from many creative hard-working people.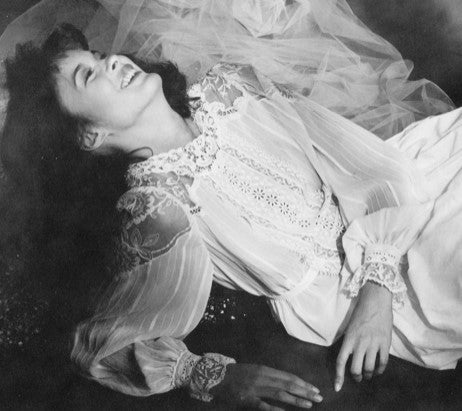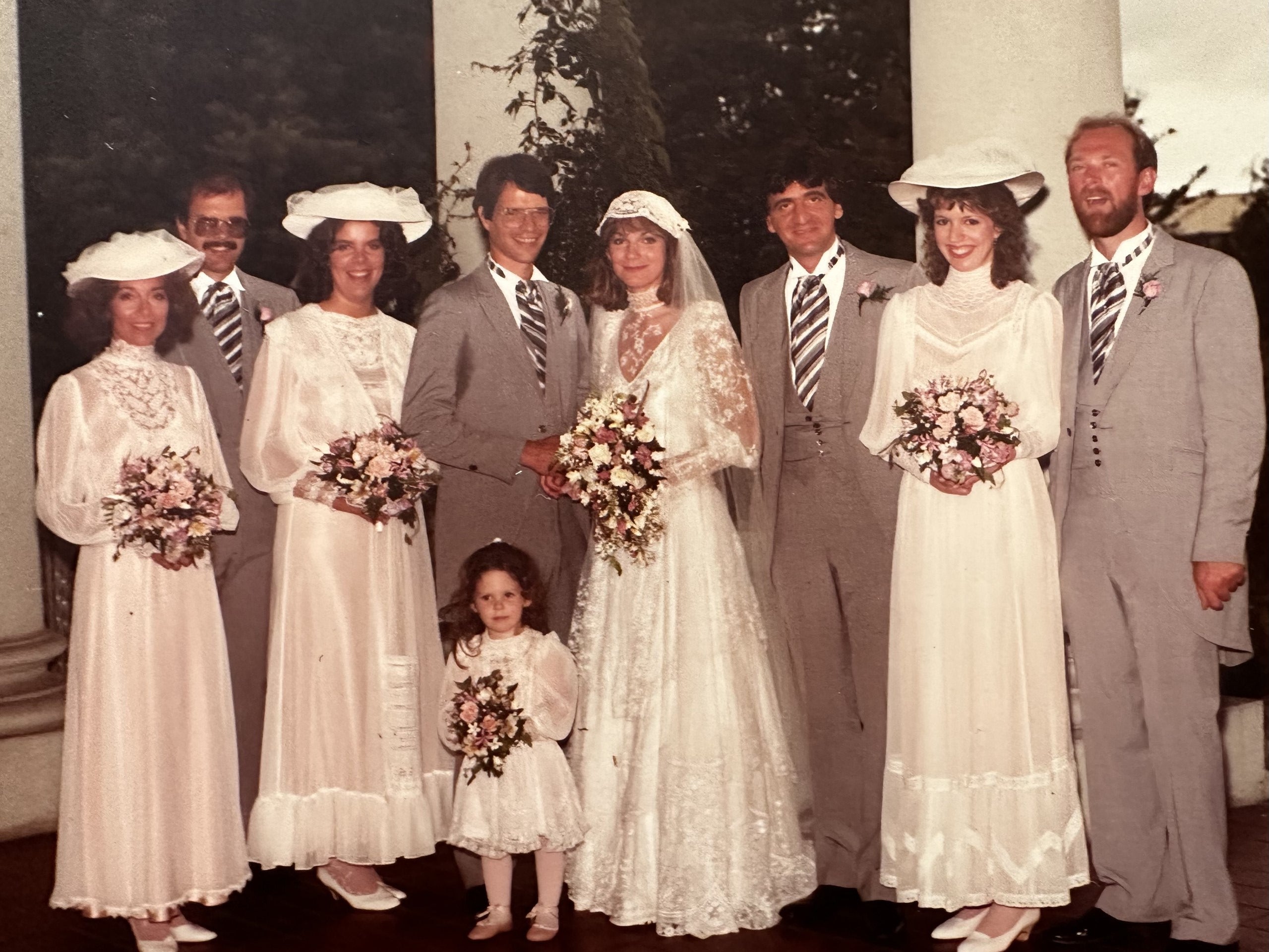 50th Anniversary
I returned from Italy inspired and ready to get back to work. However, my boyfriend, David, had other ideas. He had missed me terribly and was not wanting me to disappear to Italy again. He propos...
READ MORE