Post: My Fairy Tale Wedding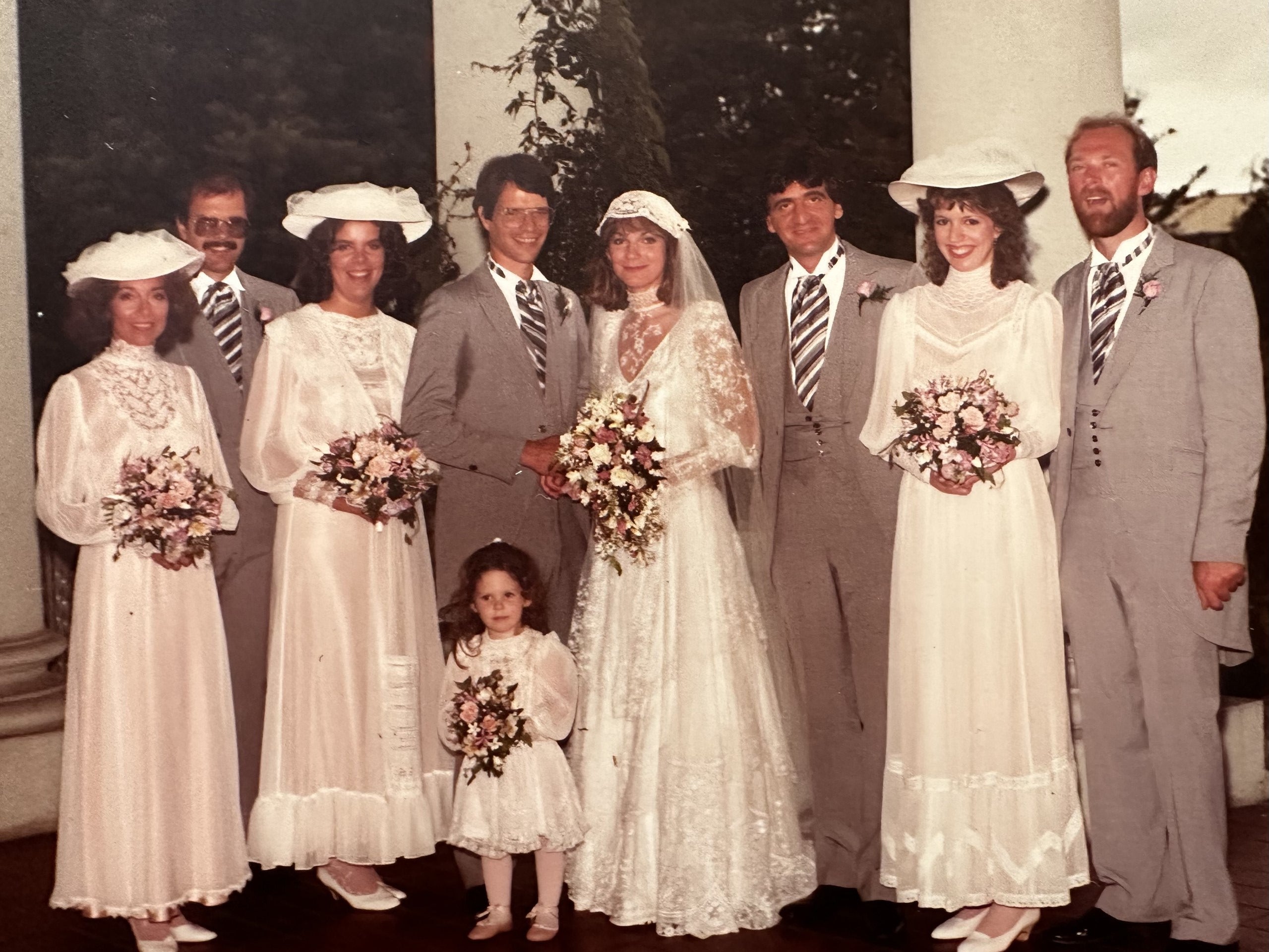 I returned from Italy inspired and ready to get back to work. However, my boyfriend, David, had other ideas. He had missed me terribly and was not wanting me to disappear to Italy again. He proposed on New Year's Eve, and I decided that he was the one. Of course, New Year's Day I panicked and tried to get out of it, however he flatly refused to let me go. It turned out to be the best decision of my life. (For more details of our crazy romance read an earlier blog, Our Love Story.)
I planned the wedding of my dreams. I chose St John's Shaughnessy to be married in, a beautiful old church with the longest aisle in the city. It had a gorgeous, old, pipe organ and all the antique details my heart could possibly desire for my special day! The reception was at Hycroft Manor, an old mansion with gorgeous gardens.
I designed my dress and Hilda Fassas, my gifted seamstress, sewed it. I had a bolt of antique lace that I bought in Italy that I used for the base of the skirt. I added three tiers of another antique lace from the hip down to the long train. The hem had a small pleated edge in georgette, bedecked in an antique trim with tiny pink and green roses made in silk ribbon. Hours and hours of work went into my wedding gown, the back and sleeve had over 50 silk covered buttons! Underneath my lace gown I wore a silk slip which plunged in the back and had rows of gathered tulle underneath to hold the shape of the lace gown out. To top off the ensemble, I had a long veil which was of course trimmed with antique lace. I felt like the perfect image of a blushing bride!
I also made three distinct bridesmaid dresses. They were made of silk georgette and worn with a rose-coloured silk slip underneath. Each one was inset with lace, tiny tucks, ruffles, and with hats to match! The tiny dress for my flower girl, Christine, was also silk georgette and lined in that same rose toned silk. I dressed my mother, grandmother, my two sisters and a few of the guests. I asked all the ladies to wear hats, and they did!
It was a beautiful day and a wonderful ceremony. The sun came out and shone on us just as we were saying our vows. I had a photoshoot before the wedding with Howard Fry, my amazing fashion photographer. Howard very graciously shot the ceremony and party as well! David was totally in shock at the size of the wedding! He had no idea of the extent in organizing and producing such a beautiful event. We thoroughly enjoyed ourselves and went off to Mexico to recover.
Our love deepened over the years, and we enjoyed decades of happiness together.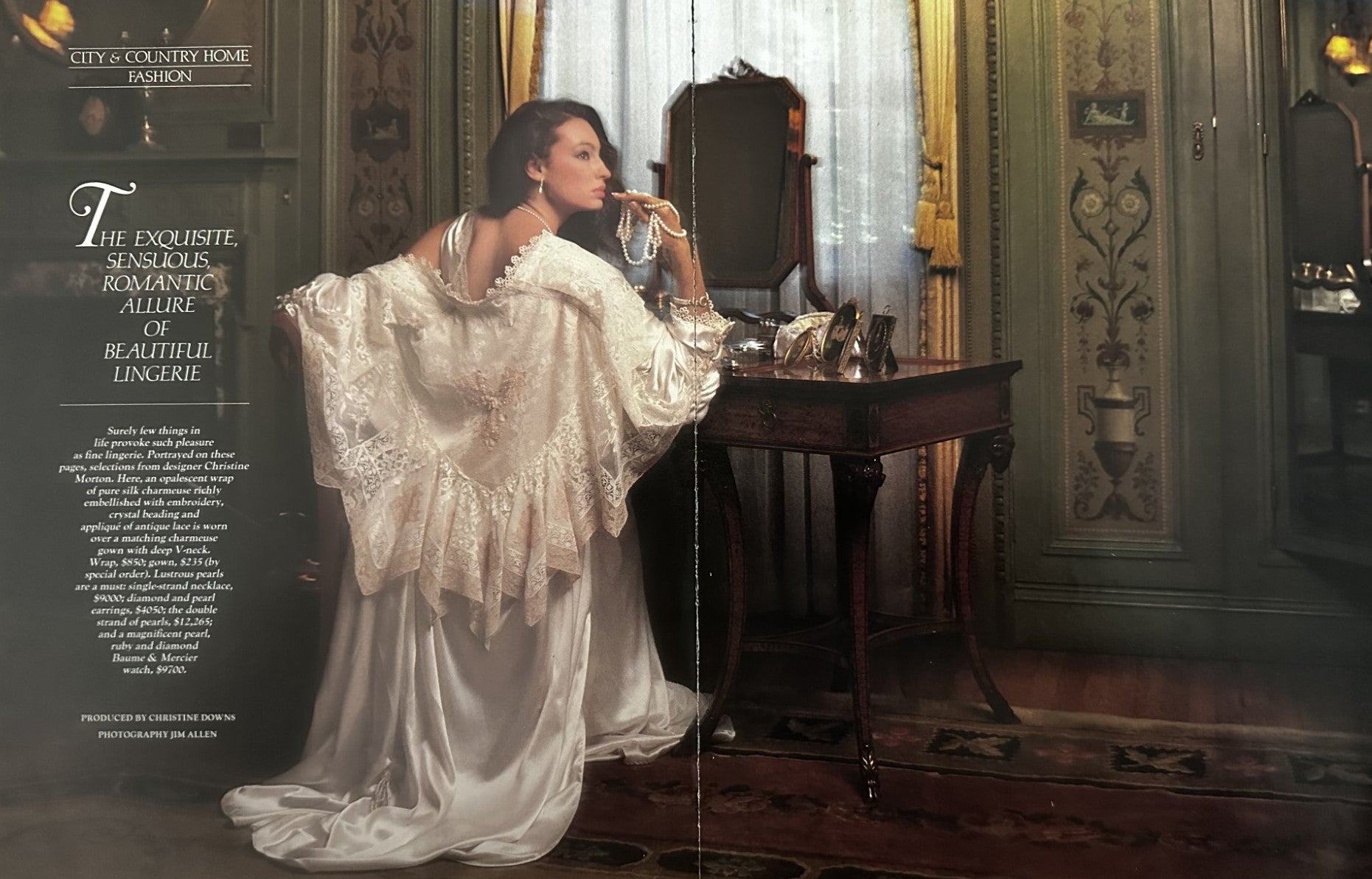 50th Anniversary
 By 1985 I was getting some wonderful articles in magazines across the continent. The editorial shown here was in the November issue of City and Country Home, it was shot at the Parkwood mansi...
READ MORE