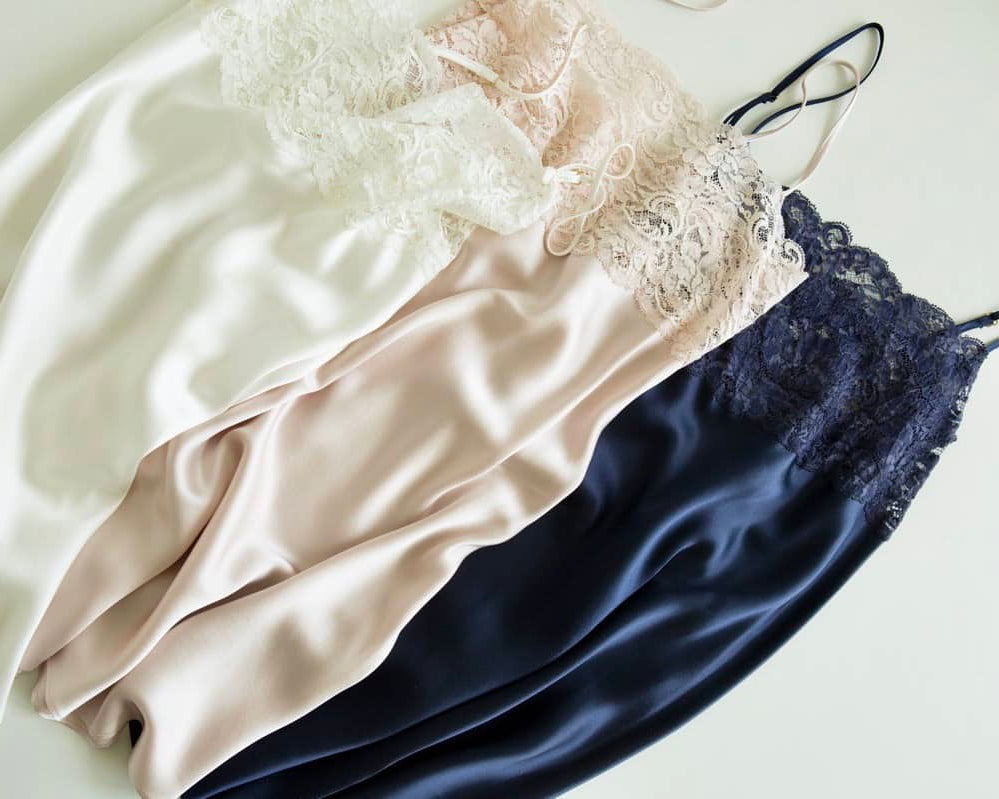 From Our Founder: The Intricacies Of Lace
At Christine, lace plays a major role in our designs each year. In this piece, Christine shares a more in depth look into how we go about choosing our laces and why. We hope you enjoy this up close glimpse into the delicacy and beauty of this detailed and timeless fabric that has enchanted women for centuries from their wedding day to their everyday boudoir.
Discover how lace plays into our collections from Christine in her own words:
Lace has always been at the heart of my collections.  I was fascinated with lace and textures very early in my life. I wrote about how my love of lace started in a previous blog, From The Designer: My Love Of Lace, if you're curious to have a look. That passion still remains today, so I wanted to share a bit of insight on how I choose the lace for our collections each year.
We have some laces we have used for many years that are a staple in our collections. Our clients are able to purchase the same design again but in different colors or add a
robe or short kimono
to match. Our best selling
Ginger Button Back Chemise
is a perfect example, below.
The Ginger Button Back in Bloom. See more color combos 
here
.
Then there are more exclusive laces, like dainty Chantilly laces or rich appliques. I enjoy searching the collections of my suppliers to discover something that inspires and gives me a vision for my next season.
Our Bijoux Collection has French Leavers stretch lace as its adornment.  It's little name in french is, "Source Fleurie." This is our classic collection we design in many different colors. This lace comes in a wide band that can be used full width (straight across the chemise, such as our Betty Chemise) or scalloped (Ginger Chemise), or appliqued (Glamour Gown). 
The Best Selling Betty Chemise featuring a stretch lace bust. See all color combos here.
This versatility makes it really fun to work with! We recently released a new gown inspired by our Glamour Gown featuring a full stretch lace bust for added support and breathtaking beauty. The lace on our new Giselle Gown is so soft against the skin while being supportive and flattering for every bust size.
Also most of our gowns and chemises are cut on the bias, diagonally on the fabric, which allows for a stretch and with the stretch lace it makes a beautiful fit.  All the laces we use are very soft but strong enough to give support. Each season we introduce a fashion color in Bijoux matching the charmeuse and the lace in an exclusive color, chosen and dyed for us.
My favorite lace is Chantilly lace.  I chose a new one each year and we color them for our Diva and Bridal Collections.  This is the most luxurious lace with a high sheen.  It can come in quite wide "galloons" that we apply in different ways to the garment.  They are hand-cut and sewn with great care as an edging, applique or perhaps the whole garment.
The Aphrodite and Davina Collections show the beauty of applying leavers lace to silk.  For Fall we went very colorful and dyed crimson lace and layered it on emperor purple charmeuse to create a stunning Moulin Rouge Collection to be released later this year.
People ask how I can come up with so many new ideas each season……this is not my problem…I have so much to choose from that my problem is…. it's hard to narrow it down!
I am excited to say I am designing a new studio in my home!  (More to come later.) Here I will work again with my antique laces to create one-of-a-kind pieces that will be truly vintage Christine. Stay tuned! Until then, we hope you enjoy our silks and find enchantment and beauty from the delicate details of lace.