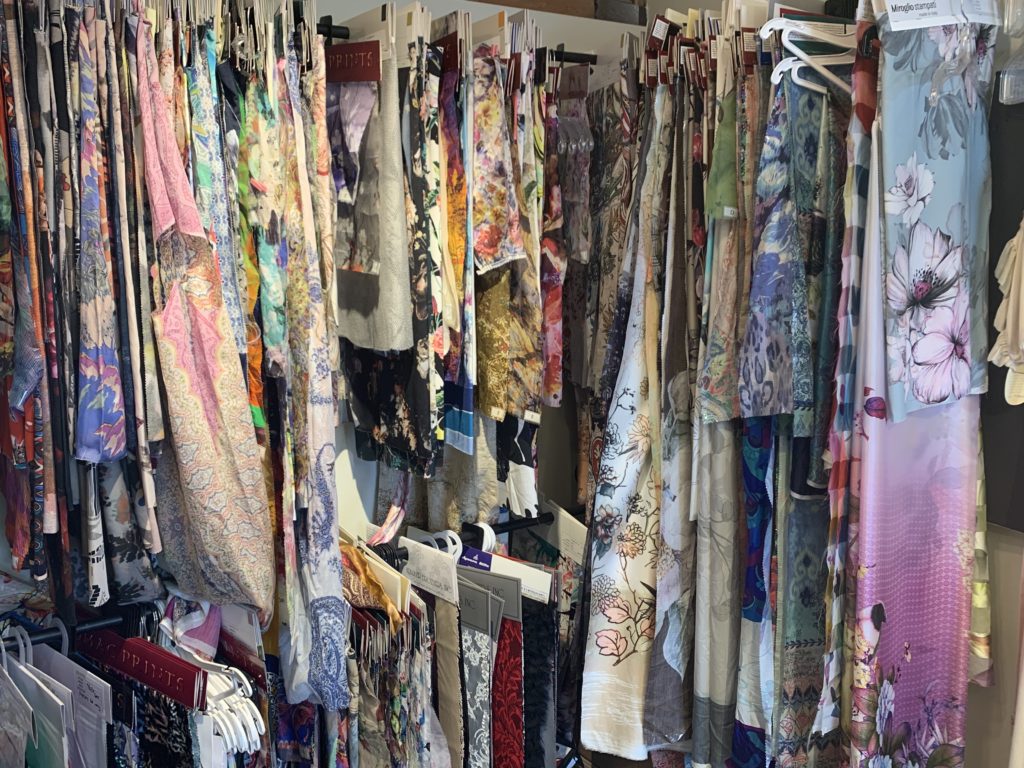 From Our Founder: How I Design Silk Prints
Thank you for the wonderful stories you shared in the survey. I found it really touching to hear that the beauty I create with my designs means so much to you! One of the comments that came up many times was your desire to know more about the design process.  So over the next few months I will share that with you beginning with how we discover and create our prints.
Prints are very personal.  So we take great care in choosing prints that we love and that we feel embody the Christine look.  For spring however we took a risk, we showed a bright geometric print in red and blue, Origami. Some of you loved it and some were shocked! But it was a huge success online, particularly the long robe which can be worn as a dress with the Obie Belt. Take a look below. 
This print is an example of how we search different suppliers and chose from their range. We then decide what fabric to print it on. For this print I used the back side of charmeuse which gives it a more ready to wear feeling. It also makes it almost uncrushable, so shows no wrinkles, great for traveling. We then dye all our own charmeuse solid colors each season so we can take any print and recolor it to match what we are showing. With digital printing there are lots of options which makes it very exciting.
Here's a look into my precious print archive, where I pull from for inspiration to create collections such as our newly released limited edition Kimonos capsule. I took a number of my archival prints and made them into an exclusive online collection. I only had small quantities left so decided to make one of my favorite pieces; the cocktail kimono. The kimono style I have worn to both of my daughters weddings. These prints and fabrications are unique and make me feel quite special and unique myself! 
If we can't find prints from our suppliers that we love we often will make our own. This lace print shown below was taken from an antique lace skirt I wear which we sent to our supplier and had it printed on silk charmeuse.  
It made a stunning collection for Fall 2010!
Another example is the Chantilly lace that we had printed on the back of velvet. It gave the silk velvet a burnt out design and a tapestry-like feeling. We then cut the lace into panels and appliqued them onto chemises and gowns which looked fantastic with the velvet worn over them. 
We have two colors in 
Faberge
 that we are showing in midnight and 
black cherry
 that are done with the process.
I love the creativity of designing prints. So I have collaborated the last few years with a number of different local artists. I feel these prints are works of art. We use these in our Gatsby Collection which is more loungewear, since they are so special we want to see them worn out. I will give the artist colors and inspirations and we work together to finalize the look. 
An up close look at our Solitude Print.
Then I will take solids from the prints and have them dyed to match so we can coordinate with slip dresses or lounge pants and camis. These prints are usually produced in panels so it is very tricky to discover the best layout for the designs you want to cut. This has to be taken into account as you design the print. These woodblock-inspired prints have been a very successful addition to our lingerie line. It gives me more room to play!
This spring, my assistant, Evan Clayton, and I decided to make a print from scratch! So we purchased some motifs and went to work. We decided to do an overall print that would repeat. We wanted it big. So with the tiny motifs we had bought we created Botanica. A beautiful print with background shadowing and lots of movement… tiny butterflies too! 
Then we had to color it. So we chose tiffany blue for the background and dyed the charmeuse in solid to match. The midnight and antique silver accent colors also went with our classic colors in silk collectibles. This was the most popular print for Spring. How encouraging for us!! We still have small quantities available if you want to add to your Christine Collection.
As you can see it's a process putting together a collection with about five  different prints twice a year. I love the challenge!  And I'd love to hear more from you as to what prints you love and how you wear them and how they inspire you! Feel free to share, we are always delighted to hear from you.