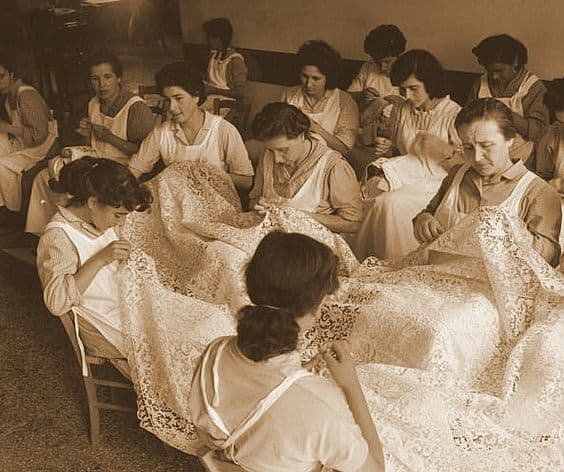 From Our Founder: My Love Of Lace
When I was a child, my granny instilled in me a deep love for delicate and handmade laces. We would spend hours together organizing her embroidered handkerchiefs, silk scarves, and lace trims. A button jar lay emptied on the floor, and her jewelry scattered about as we fawned over her prized possessions. Occasionally she would gift me something to take home and treasure!
As I became known for using vintage lace in my garments, people would bring me their grandmother's boxes full of antique laces.  I would scour estate sales looking for the perfect pieces for my growing collection. I met a man named Richard who travelled up and down the west coast searching for his next antique find. We discussed my fascination with vintage laces, and he began to keep a watchful eye for antique laces! The laces that Richard found were carefully matched, washed, whitened, and made ready for sewing. It was a labour of love that gave myself and my clients great joy. 
One of the biggest treasures came from a girl in Toronto whose father had been a dealer for a lingerie company in the 1940's. Her garage was bursting with boxes filled to the brim with laces, embroideries, ribbons, and appliqués. By some miracle, they all matched as well! I purchased every piece and dreamt of what I could create with my newfound nest egg.
Something that really inspired my love for lace was a trip to Burano, Italy. Burano is renowned for their hand crafted laces dating back to the 16th century. Local legend has it that the island's reverence for lace came from a fisherman's encounter with a siren, who spun sea foam into a wedding veil for the fisherman's fiancée. Her wedding veil became the envy of the town, and thus Burano became a hub for artisanal lace. During my trip I would watch ladies clad in black making lace, their hands deftly weaving the finest strands into beautiful master works. I wanted nothing more than to live there and study the craft.
As
Christine Lingerie
grew I could no longer hand pick vintage lace for each piece, so I started buying laces from Switzerland. One particularly memorable trip was spent in the archive library for two days looking at swatch books of embroidered laces from the 1920's and 30's.  I was able to choose a vintage lace design, select my own colors for the embroidery, and then they would produce any amount for me!  Being surrounded by all of these vintage laces, I couldn't help but feel like I was that little girl again playing with her granny's treasures.
Today, my love for lace has translated into being incorporated into a vast array of my designs every season from appliqués on our silk chemises to short robes. For instance, this Spring I am particularly in love with the lace we decided to use for our bridal collection, Aphrodite. This stunning lace appliqué has a vintage feel due to its oyster color.
I also love incorporating a bit of
stretch lace
into each collection for a more fun and flirty, fitted look. Black lace is essential to every woman's boudoir, so I think that is what makes the new Muse collection so magnetic.