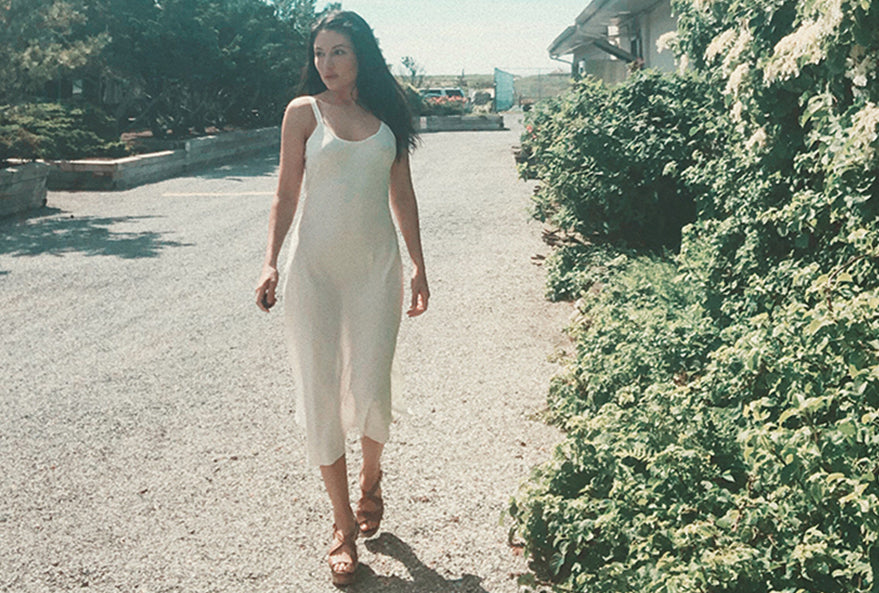 Underwear As Outerwear: The Silk Escape
One does not have to be ultra provocative to wear their underwear as outerwear. This summer, explore the daytime potential hidden in your boudoir for sultry looks that sing of simplicity and sophistication. After all, it is the season for sunny holidays and weekend getaways, so a smart wardrobe will be one that is multifunctional. Prepare to explore the surprisingly rich history of wearing lingerie as outerwear and learn how you can apply this timeless trend by wearing your
silks
in the sun this summer. 
Let us begin by going back to the 18th century to explore the birth of the underwear as outerwear trend with a fun bit of historic lingerie gossip you may not know. Believe it or not, Marie Antoinette was one of the first pioneers to wear lingerie as outerwear. In 1783 she chose to sit for a painting wearing what would become infamously known forever more as "chemise à la reine," or the "chemise of the queen." This modernly conservative light and airy gown was then what most women wore only next to their skin, beneath their corsets. 
To the modern eye, the dress looks rather refreshing compared to the redundancy of the more decadent outfits the famous queen typically wore to sit for portraits. It has a sort of rustic, feminine, relaxed simplicity to it. You might even call it Marie Antoinette's 'girl next door' look. But while the painting may not translate as aggressive by today's standards, it caused a quiet the uproar among salon goers in its time. In fact, the painting was protested and the french people demanded it be taken down. 
It is possible to argue that Marie Antoinette's choice to wear this more casual, sultry look was her way of expressing her aversion to the formalities of Versailles. In the privacy of her personal playground, Le Petit Trainon, it was how her and her friends liked to dress all the time. While the queen was not perfect, she is possibly one of the women we have to thank for pioneering a playful and girlie attitude. She championed nonchalant femininity and believed in having fun. Before there was Cyndi Lauper, there was Coco Chanel in her
silk pjs
, and before her silk pjs, there was the queen, but how does that all translate today? 
Today, women can easily transform a sultry bedroom piece into the perfect date night or daytime look. Slip into something silk for instant chic and sexy vibe. Nothing is more versatile than the slip dress, so it would be wise to invest in several colors and you'll never have nothing to wear again! Unique to Christine Lingerie, our silk slips are custom colored, making them one of a kind. We love creating beautiful shades from neutrals to bold colors that are season-less and charming. 
Designer in chief, Christine Morton is a major enthusiast for underwear as outerwear. While chatting with her on the subject she expressed, "Lingerie as outerwear has been around for years and we have been making slips that people wear as outerwear since the beginning of my career as a designer back in the '80s. Women even wear them as wedding and bridesmaids dresses. What makes our silk slips flattering is that they are cut on the bias so they drape beautifully on the body which enhances the allure of the silk."
Cutting on the bias became a signature characteristic of the silk slip in the 1930's by designers such as Madeleine Vionnet and Madame Gres. It became instantly popular due to its ability to describe the contours of the female figure with the fabric of the gods: pure silk. 
For this self-portrait editorial, I chose to model The Audrey Gown and the Sandwashed Silk Chemise in Lilac for their beauty and most of all, their simplicity. The Audrey gown is made of crepe silk, which I am obsessed with, especially during the summer. I find it to be at once flattering and incomparably comfortable. As I described earlier, both pieces are cut on the bias, which is quintessential of the silk slip. Lastly, I love these pieces for their adjustable straps, leaving the option to wear them with a bra. I chose not to wear one for this little story which I titled, 'The Silk Escape' but in the realm of not posing for pictures, wearing a bra would be my preference for a dinner date or day look. I like the Hamptons motel feel of these photographs. As if they are snippets of a memory from a weekend out east. This summer, I can't wait to wear a silk slip or dress with a pair of strappy sandals for a refreshing, chic and sexy lingerie as outerwear look. I hope you will feel inspired to, too.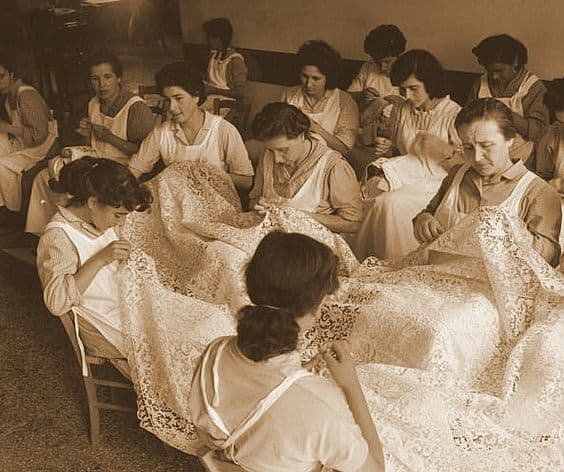 Designs
From Our Founder: My Love Of Lace
Lingerie designer, Christine Morton, takes us on a journey through the evolution of her love for lace. Enjoy this enchanting, historical and passionate tale about her devotion to lace in the name o...
READ MORE