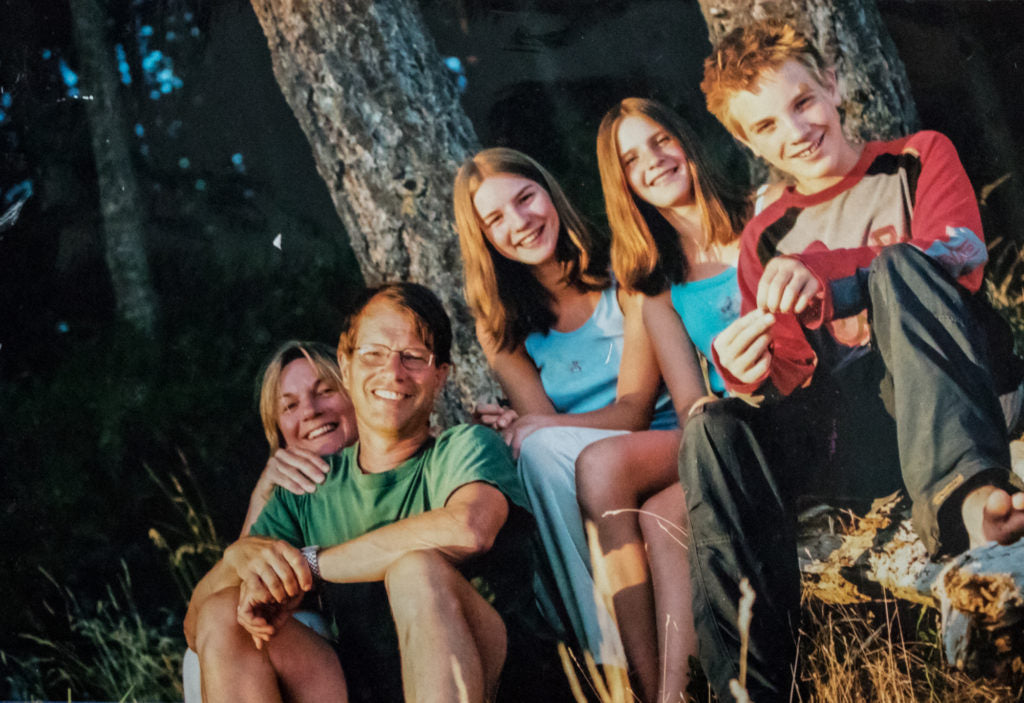 Dads are a treasure! Knowing they are there and you can turn to them anytime for advice or inspiration or just a big hug is something we can't all do.
Christine her husband David and their three children Selena Izzy and Andrew
This is the first Father's Day for my adult children to not have their dad. David passed away last October. We had time to say all the things we wanted to knowing we might not have another chance. That was a precious gift! I'd love to share with you some of the thoughts and stories my children wrote about their unique loving father.
Selena
Some of the best memories of my dad were around how much support he gave me growing up.
David officiating Selenas wedding
He took a keen interest in all aspects of my life. From getting involved in
countless after school activities like coaching tee ball, encouraging me through ear splitting violin lessons, picking me from horseback riding lessons on his motorbike, to helping me with all my schoolwork. However after having him write a French assignment that got me a D, I decided to stay on top of my schoolwork myself.
 David with his daughter Selena
He would take us on Magical Mystery tours to Chinatown and Science World and adventures in the canoe to the grocery store. In the summers it was trips to the interior or camping in the old red van. Dirt roads would fill the back of the van with so much dust we couldn't see out the windows. But somehow getting pulled over by the police for having a questionably roadworthy vehicle seemed to make my mom feel better about it all. 
He went above and beyond to get ordained to marry Aaron and I, making the moment that much more special! His colorful spirit and flare for a dad joke at the most embarrassing moments will be sorely missed.
Andrew
I always yearned to make him proud. Not because he was a stern and distant father-figure who withheld approval, but because every day, through lived example, he showed me exactly how a man ought to be. It's what a boy should aspire to: capable, hard-working, inquisitive, and bold, yet kind, gentle, empathetic, and modest.
David with his son Andrew
He always found new ways to hang out with me and teach me hobbies we could share. Like making models, playing catch, fishing, joining Cub Scouts, bikes rides to the mall to buy pogs, teaching me woodwork and home repair, and scuba diving to name a few. In more recent years we'd go to the pub and eat hot wings, play pool and just talk.
On these occasions he often told me he was happy and content with life. His
recipe was to seek joy in everything- every activity and relationship, big or
small—and to seek to inspire joy in the people around you. His steadfast refusal to take himself too seriously and attentiveness to the needs of others seem to me to have been the key to his success.
We both understood the depths of our love for each other. When we hugged we both swelled with pride to be able to call each other father and son. What a precious gift it has been to have a father like him!
Izzy

My dad wasn't like a typical dad. My dad was crazy.
He didn't do things the way most Dad's do things. Instead of the standard 
"airplanes" coming into our mouths when he was feeding us, our food would be a family of chickens. They would be looking for their friends who had gotten lost in a dark cave, and when we chewed he would make noises of agony of the little chickens being eaten alive.
David with his daughter Izzy
He used to make stuff up. 
Stuff that we would internalize and it would become a huge part of our worldview till one day when we realized how insane it all was. Like when we were very young and he told us he was born before color was invented. He would show us black and white movies- there was so much proof! Another time, he told us Farris was a Lebanese name and we were all Lebanese. I don't know where he got this from. I told everyone I was Lebanese. I remember trying to embrace this new culture I was part of, telling people about it, being proud of my Lebanese heritage. Till one day, like recently, like probably within the last 3 years, I learned he had just made it up!
David walking his daughter Izzy down the isle
He would create these amazing school projects for us that no teacher would ever believe a child had had any part in. Typically it would be like a Sunday night and one of us would tell him the Science Fair was the next day and we had nothing. After a moment of panic he would go down into the workshop, emerging hours later with a fiberglass model of the sun or a wax replica of a biome or literally, once a functional robot.
Christine David and their three children
This Father's Day share the memories and laughter and love with your Dad and make this one of the most special of days.
Happy Father's Day
From the Christine Family