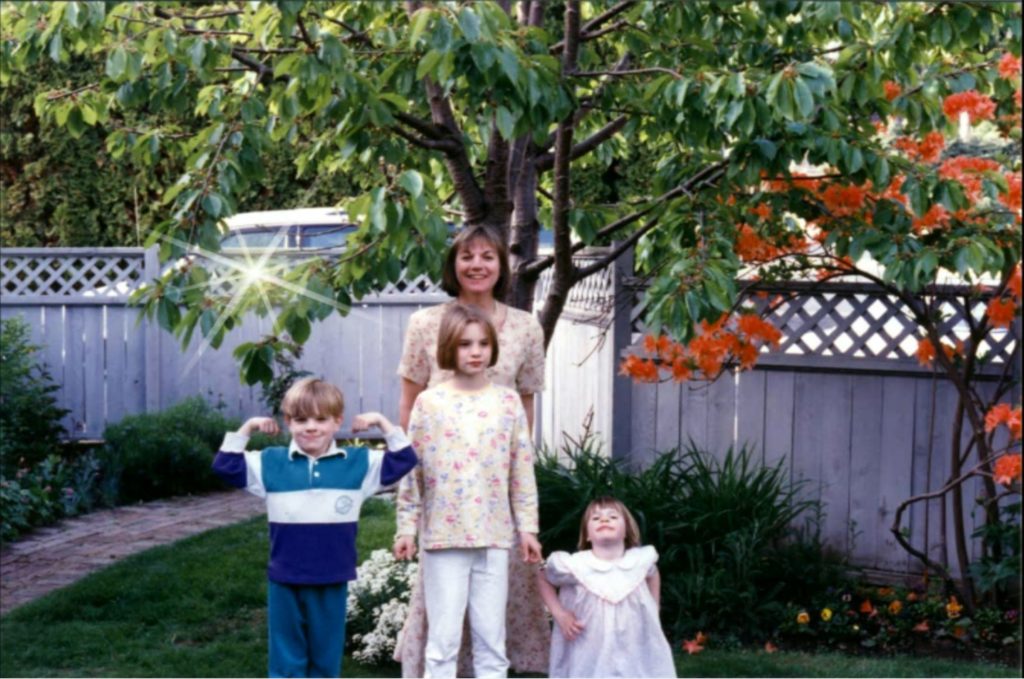 Andrew, Selena, myself, and little Izzy.
In celebration of her birthday, our founder and creator, the Christine behind Christine, shares the joyful tale of her very own tree of life,
The Cherry Tree
. A cherry tree that she and her husband planted at the beginning of their journey as new parents that would become a special part of a birthday tradition, each and every year…
We bought our house 37 years ago when I was pregnant with our first child, Selena. The front garden was quite bare so in celebration of her birth we bought a cherry tree. Little did we know how much joy and entertainment we would get from this tree! We decided that on my birthday, every year, David would take a picture of me standing in front of the tree with our family, Selena, Andrew and Izzy.
This is Selena and I 1985 with the new tree.
1986 Selena and I with a few more plants.
1988 I am pregnant with Andrew and Selena is 3. New fence and David's old red fire truck in the background.
1989 Selena is 4, Andrew is almost 1 and I am 2 months pregnant with Izzy.
We were very hopeful to get cherries the first few years, so it was with great excitement that we woke up one morning to find the tree covered in them. Our friend had hung store bought cherries all over it! When we finally did get one we had a Cherry Jubilee where we placed it on a platter and cut it carefully in thirds for us all to share. Soon we get tons of cherries however that's when the trouble started.
Andrew, Izzy, Selena, and myself.
As Izzy put it, "My dad was kind of crazy, every spring he would engage in full out war with the neighborhood wildlife over the cherries. I would wake up at 5am to hear him running out into the garden with the hose to chase away the squirrels, raccoons and crows. One day I was walking home from high school and I could hear this booming rock music from like four blocks away. "Please don't let this be my house." He was running around the garden like an urban Rambo, paintball gun in one hand, bleach filled squirt gun in the other, trying to hunt down a squirrel that had stolen a cherry. My mom finally put a stop to it when he accidentally dusted the neighbor's car with paintballs."
Selena, myself, Izzy and Andrew.
These pictures bring back such great memories and document our family and our garden all on the same day each year, my birthday! As our family grows and now includes son-in-laws, so the tree also grows. If someone was off traveling we would include their photograph. This year we included David's picture as he is no longer with us…Next year we will have a new member of the family as Izzy is five month's pregnant with my first grandchild!!! Life goes on and is quite wonderful!
And finally, this year's! 🙂 Selena and Aaron, myself and Andrew, Izzy and Luke with their dog Nacho. Selena's three large dogs are barking in the background! The tree is out of sight!
Tell me, what else should I have done,
Doesn't everything die at last, and too soon?
Tell me, what is it you plan to do with your wild and precious life?
-The Summer Day by Mary Oliver