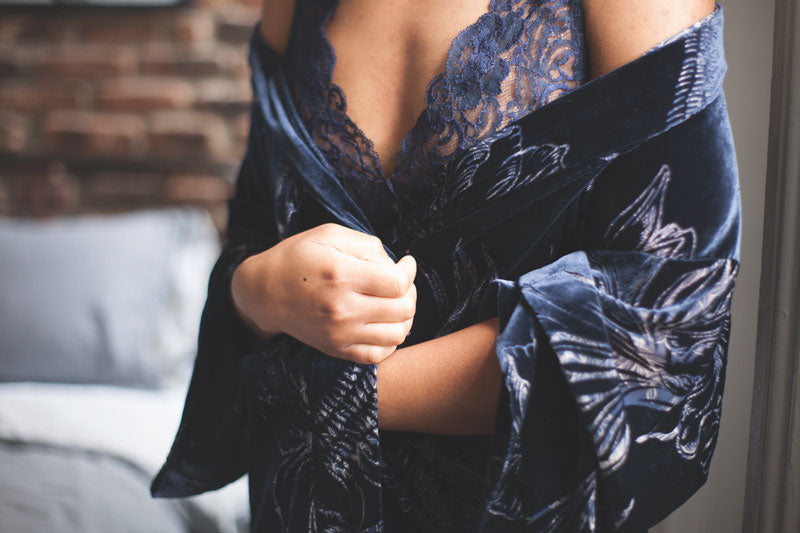 Velvet Robes, Velvet Dresses: The Essence Of Holiday
Take lush to the next level when you incorporate velvet robes and velvet dresses into your holiday wardrobe. And of course, in the spirit of giving, velvet is furthermore suited for the perfect gift.
Fabergé Velvet has been a part of our collection for many years and each season we enjoy reinventing it through color. Inspired by the midnight hour is our new Midnight Velvet, featuring our signature burn-out floral motif. This collection is additionally still available in Black Cherry due to its popularity last season!
The capsule includes a velvet gown, long velvet robe, short velvet robe and a velvet kimono. These pieces can be styled for entertaining at home, reading the paper on a Sunday morning, or out on the town on a Saturday night. Perfect for holiday soirees and luxury gift giving, let us share this new collection with you, piece by piece.
The
Fabergé velvet gown
is perfectly luxurious for lounging in or to wear out for your next soiree. At home or out and about, this piece is a sure show stopper and ultra comfy too. It features a beautiful side slit and a low back, making this velvet dress extra elegant. Pair it with a royal headband of pearls and glamorous heels to complete the look.
The long velvet robe can also be styled to wear while sipping your morning coffee or Saturday night's champaign. Featuring a regal tasseled belt and side pockets, this piece is sure to keep you warm all winter long. Furthermore, the long velvet robe pairs exquisitely with some of our silk gowns, such as our best selling Glamour Gown in Midnight, no less! Flattering for all shapes and sizes, it makes for a truly gorgeous gift for yourself or someone else.
Transform your little silk chemise into the perfect winter-boudoir look with the velvet short robe. Like our long velvet robe, it features side pockets and a velvet tasseled belt. The midnight palette makes it an easy match with a little black silk slip, such as the sugar chemise.
Like the velvet long robe, the velvet kimono can be worn as an intimate or styled as outerwear. Pair it with luxurious silk lounge pants and a matching cami to dress it up, or style it for a more casual look when you pair it with your favorite jeans.
Our Faberge Velvet is an indulgence worth your while due to its timelessness. These pieces are the kind that will last you a lifetime, worn for special occasions or cozy winter mornings. As we mentioned earlier this ravishing capsule is also available in black cherry if you are looking to add a touch of luxurious holiday color to your wardrobe. The velvet kimono, velvet short robe and velvet long robe go beautifully with our classic PJ and loungewear sets and create a look more suited for a queen when paired with one of our luxurious silk gowns. 
Velvet is winter's most royal texture. It's innate opulence sings of celebration and grandeur as it evokes its unique luster and seduces with its mesmerizing feeling. Velvet dresses, velvet gowns and velvet robes give off an enchanting air of romanticism, perfect for this wintery season of love.